Welcome to our article, as you've searched the best physiotherapy centre in Gurgaon that shows if you're suffering from any physical pain and you want to get rid of it. Right?
Well, in this short article we'll be telling you about the Rid Of Pain Physiotherapy- best physiotherapy centre in gurgaon located in Gurgaon and will try to answer your search why our clinic or center is the best physiotherapy clinic in Gurgaon, Sector 31.
Before that have a quick look on What is Physiotherapy basically,
What is the PHYSIOTHERAPY:
A common question of  people who have never visited a physiotherapist is the very basic question of "What is Physiotherapy?".
Physiotherapy: physiotherapy is defined as a treatment method that focuses on the science of movement and helps people to restore, maintain and maximize their physical strength, function, motion and overall well-being by eliminating the underlying physical issues.
It is science-based, committed to extending, applying, evaluating and treatment of the problem.  Medical treatment add the years to the patients life but the Physiotherapy is the part of medical profession which add up the healthy, happy and painfree years to the patients life.
Treatment in  the 1940s primarily consisted of exercise, massage, and traction. Manipulative procedures to the spine and extremity joints began in practice,  in the early 1950s. Later that decade, physiotherapists  started to move beyond hospital based practice, to outpatient orthopedic clinics, public schools, geriatric settings, rehabilitation centers, hospitals, and medical centers.
Rid of PAIN PHYSIOTHERAPY is one of the most leading Physiotherapy Centre in Gurgaon  which provides the best  physiotherapy treatment  to the people who are suffering with a wide variety of problems. Our clinic follows the all ethical  norms and give the best care to the patient.
Our clinic offers highly advanced Physiotherapy treatment with the use of latest modalities, technology and manual therapy. The ultimate goal is to make each patient functioning better at home and workplace. We provide pain free and healthy life. We provide the maximum comfort to the patient during treatment
Clinical Specialities of Rid of Pain Physiotherapy:
Advance manual therapy
Myofascial release therapy
Muscle energy technique
Myokinetic cupping therapy
Dry needling
Kinesiotapping
Structural integration
Chiropractic
osteopathy
Physiotherapy Treatment: What Conditions do Rid of pain Physiotherapy Treat?
As professional physiotherapists we  provide  best physiotherapy treatment. Our goal of treatment is:
Preventing injury and disability;
Managing acute and chronic problems
Improving and maintaining optimal physical health
Rehabilitating injury and treating the problems
Educating patients to prevent re-occurrence of an injury.
Being physiotherapist, we treat quite large specific clinical areas. These include:
Musculoskeletal physiotherapy/ Orthopaedic: We treat all musculoskeletal injuries like neck pain, back pain etc.
Cardiopulmonary: We provide the treatment for lung diseases and improve the lung capacity of the patient.
Neurology: promote healing and improvement of mobility like severe brain or spinal cord damage from trauma, or who suffer from neurological diseases such as stroke, Parkinson's disease and multiple sclerosis.
Paediatrics: we work on the paediatric problems like delayed milestone, cerebral palsy etc.
Sports physiotherapy: if anyone suffers from sports related injury then you must vist to us for all such problems.
Rheumatology: we treat rheumatoid arthritis, ankylosing spondylosis like problems so patient can get improvement in pain and stiifness and painfree life.
Older People / Geriatrics: age related problem like arthritis, balance related issues, and mobility related problems can be treated at our clinic.
Women's Health: We treat the incontinence,  advice pelvic floor strengthening exercises, antenatal and post natal classes.
Oncology: we treat the patient by relieving the swelling with the help of lymphatic drainage, improve mobility, strength and reduce fatigue pain and stiffness.
Chiropractic: we treat the patient with postural problems and correct alignment of all joint to maintain correct posture.
Osteopathy: anxiety, stress, migraine, gastric problems can be treated with the help of osteopathy at Rid of pain physiotherapy.
The clinic provides wide variety of physiotherapy treatment  like sports physiotherapy, orthopedic physiotherapy and neurological physiotherapy, gynaecological physiotherapy, cardiac physiotherapy, paediatric physiotherapy, modified chiropractic treatment, osteopathy which include treatment for back pain,
neck pain, muscle pain, multiple sclerosis, strokes, parkinson's disease, tennis elbow, shoulder pain, slip disc, knee pain, rheumatoid arthirits, osteoarthritis, ankylosing spondylosis, scoliosis, facial palsy, hemiplegia, urinary incontinence, sports injury, anxiety, migrain,frozen shoulder, post surgical rehabilitation, post fracture stiffness, postural imbalance etc.
RID of Pain Physiotherapy  offers  integrative approach for evidence based assessment and treatment. We basically work on the elimination of the root cause of problem which gives permanent solution.
Location of the clinic:
Rid of Pain Physiotherapy is located in plot no  C-2, jalvayu vihar road, sector 31, gurugram
Other location is PWO appartments, sector 43, gurugram( on call). For home session near and around we are also available in plot no 730, sector 14, gurugram.
Founder of the rid of pain physiotherapy: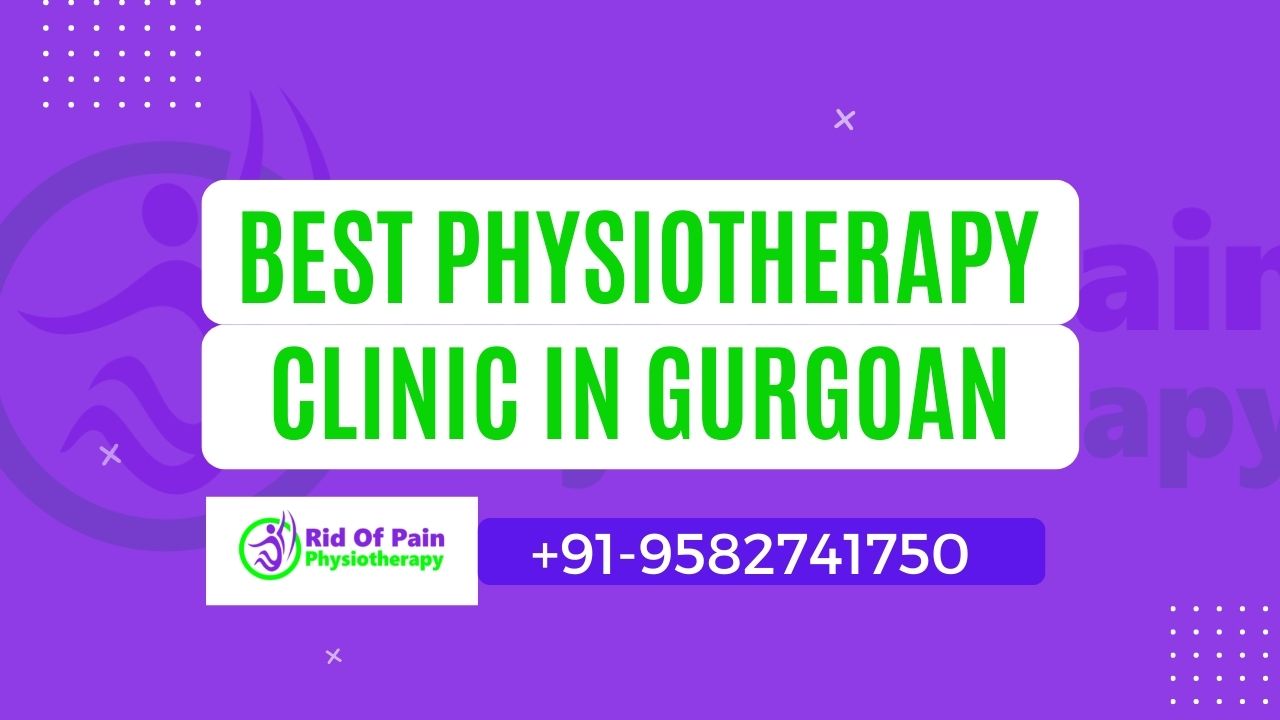 Rid of PAIN physiotherapy is the clinic which was founded by Dr NEETU RATHI in 2017. It the clinic which is completely led by a female physiotherapist.
We have treated more than 10000 satisfied patients till now. Dr Neetu Rathi has completed her master in physiotherapy and bachelor of physiotherapy both from guru jambheshwar university of science and technology , hisar. She is a keen learner to adopt the all advancement in physiotherapy treatment to treat her all patients and tries to give the best to her patient. She treat her all patients with full dedication.
Why we are the best physiotherapy centre in Gurgaon:
Physiotherapy encompasses rehabilitation, injury prevention and health promotion/fitness. The profession employs a holistic approach to treatment, looking at the patient's lifestyle and engaging them in their own treatment.
Patients seek assistance from a physiotherapist for a variety of health issues and rid of pain physiotherapy provides the treatment for following conditions:
Cardiorespiratory: providing support, prevention and rehabilitation for people suffering from diseases and injuries that affect the heart and lungs, such as asthma.
Cancer, palliative care and lymphedema: treating, managing or preventing fatigue, pain, muscle and joint stiffness, and deconditioning.
Incontinence: managing and preventing incontinence and pelvic floor dysfunction.
Women's health concerns: addressing health issues surrounding pregnancy, birth, post-partum care, breastfeeding, menopause, bedwetting, prolapsed, loss of bladder or bowel control.
Musculoskeletal: preventing and treating clients with musculoskeletal conditions such as neck and back pain.
Neurological: promoting movement and quality of life in patients who have had severe brain or spinal cord damage from trauma, or who suffer from neurological diseases such as stroke, Parkinson's disease and multiple sclerosis.
Orthopaedic: helping patients prevent or manage acute or chronic orthopaedic conditions such as arthritis and amputations.
Pain: managing or preventing pain and its impact on function in patients.
Physiotherapy Techniques: What Techniques do Physiotherapists Use?
Physiotherapists uses a variety of techniques, depending on the nature of the injury or problem they are treating. The most common physiotherapy techniques are:
Manual manipulation: Moving joints and soft tissue, helps to improve circulation, drain fluid from the body, and relax tightness or stiffness of the muscles. It includes Mobilisation, MFR, IASTM, mulligan, Maitland, chiropractic and osteopathy, dry needling, cupping therapy etc
Electrotherapy: Small electrical currents delivered to affected areas helps to suppress and block pain with the help of TENS or IFT. For healing we uses ultrasonic. Other treatment modalities are hot pack etc
Exercises therapy: various exercises are explained to the patient as home exercises plan to improve the strength of muscles and posture.
Why we the best physiotherapy centre in Gurgaon:
Each session with a physiotherapist is unique, because it depends on the patients's health issues and needs. So we work according to that to treat the patient.
We learn about the patients history in detail and comfortable environment without any rush. Learning about the patient's medical history;
Assess and diagnose the patient's problem
Explain about all the problems and the treatment that we are going to provide in detail
Communicate with the patient politely and listen carefully about all the problems that they are facing
Creating a treatment plan that accounts for patient's health, lifestyle and activities
Minimal or no waiting time
Maintain hygiene and follow safety norms
Follow all the ethical norms
Follow all the advancement in treatment with different and multiple new treatment modules and equipment
Prescribing a course of exercises and necessary devices in detail
If you are experiencing physiotherapy related issues, you must visit for consultation at rid of PAIN physiotherapy.